Morgan



Age

22 (Premused)

Status

Deceased

Cause of death

Stabbed in the chest with cane.

Friends

Enemies

Romances

None

Family

Unnamed mother
Unnamed father

Played by
Morgan is a character of 1983 slasher film The House on Sorority Row.
Morgan was a member of Pi Theta sorority. Morgan appeared to be the dimwitted member of the crew. Morgan is present during the prank gone wrong and helps the girls cover up the murder.
At the party the girls ask Morgan to pack Slaters things and when she's there she comes upon Mrs. Slater's body, causing her to faint. When she wakes up and sees the sight of the body it becomes too much for her and she's leaves and goes to her bedroom. When she's in there she hears something and goes onto the balcony to see what it is. It is a Jack-in-the-box. She plays it and while it is distracting her
Eric Slater
comes behind her and impales her with the cane.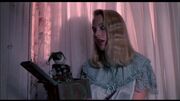 Morgan's body is hidden in the pool along with
Jeanie
and
Diane
.